4 Assumptions about Your Wife That Need to Go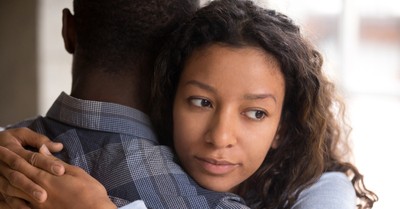 By Janet Perez Eckles, Crosswalk.com
He stepped into the kitchen and wrapped one arm around his wife's waist. "Hey…" he whispered in her ear.
Her muscles tensed. "Not now, Honey.".
When it comes to intimacy, those three words can crush his ego, deflate his masculinity, and elbow rejection right into his stomach.
An exaggeration? Let's asks those hubbies who heard the same three words way too many times. Before you know it, he's tired of the same response. He takes his frustration with him, grabs the remote control. And plops on the couch, looking for the sports channel. As a result, they both lose in the game of romance.
Who's to blame? The fair answer is both are. She, for not expressing what those three words mean. And he, for assuming her level of urge equals his.
But that's only the beginning of the husband's incorrect assumptions. Unfortunately, in their minds, they stored as many assumptions as the apps on their I Phone. The wise thing to do is to download the list, review each one, and with one swipe, delete them.
Here are four that could be blamed for those tense days and cold nights.
Incorrect Assumption No. 1: She's Ready When He Is
She's ready all right--to get things done, to check off the to-do list. And when the day is over, her tasks are not. Her mind keeps reviewing the chores still to be done. After she changes the umpteenth diaper and wipes one more sticky juice spilled on the kitchen floor, she's ready for her pillow, planning for a restful sleep.
But all could change if hubby devised his own plan. The first step is to recognize his wife's drive can be like a pot of soup. When all ingredients are poured into it, then and only then can he hit the "on" button.
Whether she holds a career or works at home, demands and stress empty her pot. But wise is the hubby who knows to fill it with kind words, expressions of love, help with the kids, sweet compliments and a word of gratitude. Once the ingredients are in the pot, the power button goes on and the results are delicious.
But not always. When hubbies fail to recognize her empty pot, they end up tasting disappointment instead. They both fail. She, for resenting his lack of understanding. And He, for assuming her response would match his expectations.
And as he analyzes the disconnection, he wonders what happened to the 'submission' part in Ephesians 5:22, "Wives, submit to your husbands as to the Lord. For the husband is the head of the wife as Christ is the head of the church, his body, of which he is the Savior. Now as the church submits to Christ, so also wives should submit to their husbands in everything."
Everything, Lord? Absolutely. But there's a catch: the submission is doable, it's welcomed and becomes a joy when, and only when a husband lives out this call from God: "Husbands, love your wives, just as Christ loved the church and gave himself up for her…" Ephesians 5:25
Happy the husband who displays and demonstrates that profound Christ-like love. Wrapped in that love is the patience for which his wife longs. And his understanding caresses her heart, sparking passion and inviting romance once again.
Father, show me the way to honor You by putting my wife's needs above my own. Grant me wisdom to demonstrate Your kind of love to her.
Incorrect Assumption No. 2: A Compliment Has No Expiration Date
They do. And to husband's chagrin, they expire fast. A husband's genuine, loving compliment fans the flame of romance.
But that flame often dies in the midst of daily demands, stress, or glitches that tear down her confidence.
That's why when she asks, "What do you think? Does this dress make my hips look big?" He scratches his head, wondering why she forgot the last time she asked the same thing. He assumes she should remember. She should know. And he assumes she does not need a repetition again.
True, most wives don't need any of such. But what thriving, strong marriages need is a wife who feels cherished, appreciated and treasured. Genuine, loving comments are only one way to achieve this because God tells us what power our words carry. "Death and life [are] in the power of the tongue: and they that love it shall eat the fruit thereof." Proverbs 18:21
The fruit of a joy-filled marriage comes with a desire first to honor God, to choose words that edify each other. And consistently and frequently seek expressions of that love.
Prayer:
Father, grant me wisdom to choose my words according to the attitude that is like yours. I praise You for showing me how to give life to my marriage.
Incorrect Assumption No. 3: Your Choice of Gifts Will Make Her Feel Loved
She appreciates gifts, but more importantly, she wants the right motives that accompany that dozen roses, box of chocolates, or shining jewelry. This writer enjoys even small gifts when they arrive in unexpected moments. Red roses only during days the world chooses like Valentine's Day hold little meaning as they might be prompted by peer pressure.
But joy overflows when gifts of appreciation arrive in a package called surprise.
No two women are alike in their preference. So, what's a husband to do? Simple. He puts on his hat of a gentleman and asks her what will fill her cup. And with cell phone in hand, he takes notes. The simple gesture of his asking rises her thermometer that measures how much she's loved.
Similarly, God measures his degree of obedience to His Word when He says, "Husbands ought to love their wives as their own bodies. He who loves his wife loves himself. After all, no one ever hated his own body, but he feeds and cares for it, just as Christ does the church…" Ephesians 5:28-29
Prayer:
Father, I desire to obey and honor You above all. Reveal to me what will show my wife she's deeply loved.
Incorrect Assumption No. 4: She Always Says What She Means
Oh no, we're not talking about a pretentious wife who lies or deceives. On the contrary, wives who give quick, one-word answers don't have any hidden, evil intentions.
Consider Tina's reaction after hubby came home late. No call. No text to let her know. Under other circumstances, that's no big deal, but he promised he'd be home to help out before their dinner guests arrived.
That didn't happen. But what did happen is they served hot plates for dinner and a cold shoulder followed. The evening is over, guests leave. But along with left-overs is the resentment that still rumbles in her.
Hubby has no clue because fun chats and laughter had filled the evening. They head to bed, but sleep won't happen because her one-word answers give him the signal that something's wrong.
He takes action and lets out a huff. "What's wrong?"
"Nothing."
What else could he do? He asked what was wrong. and she answered. But the real solution is yet to come. It arrives when he tosses out the assumption there is truly nothing wrong. There is. Way deep inside, there is something huge going on. So big it sucked out her joy, flattened her sense of importance, and the more she reviews his inconsiderate behavior, anger joins the list of negative emotions.
Conversely, he has no list. He only knows one thing-- he did his part by asking. But what he doesn't know is that when she blurts out 'nothing', it equals to the warning: "danger, quicksand." If he assumes that truly nothing is wrong, his sinking began.
The 'nothing' response is really screaming: I want you to hug me tight. Then gently pull away for a bit, with your fingertip, lift my chin, look into my eyes and whisper, "I was wrong. I know I was late and didn't call. I promised I did and I failed. Can you forgive me?"
That's when the 'nothing' turns to something beautiful. They both obeyed by living out God's definition of love in 1 Corinthians 13:5, "…it is not self-seeking, it keeps no record of wrongs…"
He doesn't seek to be right and prove her wrong. And she forgives, erasing the wrong from her memory.
Prayer:
Father, I praise You for the way you take me beyond my reasoning and assumptions to know how to maintain harmony in my marriage.
There's nothing wrong with assumptions unless they're incorrect. Then they become like an oil leak in the engine of the marriage. If they continue, the mechanism that makes the relationship work locks up, and before you know it, while they hold on to harmful assumptions, the marriage is towed away to divorce court.
God's plan is better. He offers wisdom, abundant and constant. Those husbands who receive it realize assumptions are the interruptions of happiness in their marriage.
Instead of assuming, he asks her what's in her heart. Then the connection happens. Their joy renews. Passion rises and the melody of their love plays a new kind of harmony.
Related Resource: Listen to our new, FREE podcast on marriage: Team Us. The best marriages have a teamwork mentality. Find practical, realistic ideas for strengthening your marriage. Listen to an episode here, and then head over to LifeAudio.com to check out all of our episodes:
---
Janet Perez Eckles is an international speaker and author who helps thousands to overcome trials, thrive in relationships and reach personal and professional success.
Photo Credit: ©GettyImages/fizkes