'The Lowest Odds of Divorce' Are among Religious Young Adults Who Don't Cohabitate: Research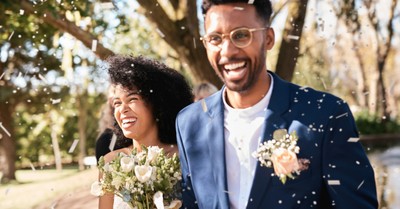 By Michael Foust, Crosswalk.com
Conventional wisdom encourages young people to wait until their 30s to marry, but new research finds that the lowest divorce rates are among religious adults who married in their 20s and did not cohabitate.
The research by W. Bradford Wilcox and Lyman Stone for the Institute for Family Studies found that 20-something marriages are "no obstacle to fun, professional success, or a stable marriage," Wilcox wrote in a new blog post.
"Our analyses indicate that religious men and women who married in their twenties without cohabiting first … have the lowest odds of divorce in America today," Wilcox wrote.
There are multiple explanations, Wilcox said.
First, religious singles in their 20s are more likely to have "access" to other religious singles who share their vision for a family. Wilcox spotlighted a young newlywed Catholic couple, Joe and Samantha Paris.
"The religious guys are more long-term guys, the guys you want to marry and the guys you want to bring home to mom and dad," Samantha said, adding, "they're going to share my morals and my values and have perhaps a similar background." Other guys, she added, are only "looking to have a good time."
Second, cohabitation by itself can be harmful to a marriage. Separate research by the Institute for Family Studies found that couples who cohabited were 15 percent "more likely to get divorced than those who did not," Wilcox wrote.
Couples who cohabitate with someone besides their future spouse, Samantha said, "always see leaving as an option."
"[That] mindset doesn't really leave – they always can see that there's a door to leave ... they can leave at any time," Samantha said. "Whereas since we didn't [have previous cohabiting relationships], that's just not an option we would think of."
Wilcox asserted that "having a history with other cohabiting partners may make you discount the value of your spouse." Psychologist Galena Rhoades agrees.
"Sure, your husband, John, is dependable and a great father, but not nearly as charming as Luke or as ambitious as Charles, the two other men you lived with before marrying John," Wilcox wrote, paraphrasing Rhoades. "Making comparisons like these could undercut your marriage."
Photo courtesy: ©iStock/Getty Images Plus/PeopleImages
---
Michael Foust has covered the intersection of faith and news for 20 years. His stories have appeared in Baptist Press, Christianity Today, The Christian Post, the Leaf-Chronicle, the Toronto Star and the Knoxville News-Sentinel.