4 Tips from a New Bride to Maximize Pre-Marital Counseling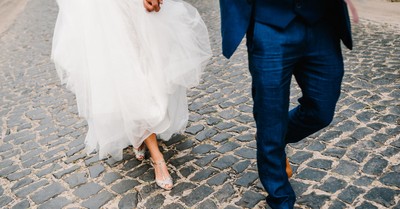 By Leah Arthur, Crosswalk.com
When people hear the word "counseling," they almost undoubtedly associate it with something being wrong or broken. Premarital counseling is just the opposite; it is meant to prevent future misunderstanding, conflict, and hurt. These things are, of course, not avoidable in our fallen world, but having a biblical understanding of marriage and God's purposes through it can strengthen your relationship and create a firm foundation with which to enter marriage.
While the Bible doesn't specifically mention premarital counseling, it does continually encourage discernment, discipleship, and growing in wisdom.
I got married last month, and my husband and I started counseling as soon as we got engaged in December. It was one of my absolute favorite parts of our engagement period. We were nervous and intimidated at first but eventually looked forward to each session and grew in maturity as we prepared for the serious yet joyous endeavor of marriage. If you are engaged, I highly recommend going to counseling. It may just save your marriage years down the road.
How Does Counseling Work?
Couples typically ask a close friend, pastor, or mentor to do their counseling. It can be beneficial to ask an older married couple that is strong in their faith because then you get the perspective of both husband and wife. We asked my husband's old youth pastor at the church he grew up at, who also wound up officiating for us. This was special because he met with us every month leading up to the wedding and walked alongside us until the ultimate culmination of saying our vows and entering a beautiful covenant. Although I had only met him once or twice before, we dove straight into the deep end, and it wasn't long before he knew my struggles, strengths, and relationship with God. He was able to speak out of the experience of his own marriage and didn't leave anything out.
It can be helpful to go through a book in counseling, which can offer guidance and questions to discuss. We read through Timothy Keller's book "The Meaning of Marriage," which is fantastic. My husband and I marked up our books which are now lovingly tucked away on our rackety bookshelf. A friend of mine is going through a workbook with her fiancé, which has led to great conversations even outside of counseling. There are many books out there, but ultimately Scripture is the Word to be rooted in!
How to Get the Most Out of Your Counseling
So let's say you and your partner decide to take the jump and try out counseling, no matter what others might say to you ("Should you even get married if you need counseling?" "You won't make it if you need help already" "That's so old-fashioned"). How can you make the most of your sessions? Here are four tips to fully embrace counseling in a way that will impact your future:
1. Take Notes for the Future
Just like in school, taking notes is important. Mark up your book if you have one. Write questions in the margins and highlight points that stand out to you. Take your time to thoroughly answer the questions if your counselor gives them to you beforehand. Journal afterward about what you learned about both yourself and your future husband/wife. Premarital counseling is no joke. It was so self-reflective for me that I left having a better understanding not only of my husband and how he operates but of myself and what I need and desire to feel loved and treasured. More than that, we uncovered our flaws. There is nothing more terrifying than bringing the dark to light and having someone else see all the skeletons in the closet you've been hiding away. Having notes about these realizations, discoveries, and things you both learned can be a resource in the future when you find yourself needing reminders of what God intends for your marriage.
2. Have Conversation Outside of Counseling
When my now-husband and I were dating throughout college, we made Thursdays our date nights. It was wonderful having that time built into our busy schedules to be intentional with one another. Once we got engaged, we scheduled counseling for Friday mornings. Instead of keeping our discussions about marriage confined to the four walls in which we met for counseling, we started going over questions ahead of time just with each other. This was fun and encouraged vulnerability. It also led to deeper conversations that we couldn't necessarily have while trying to get through our chapter of the book with Zac for a designated hour. If you only let yourselves be open with each other in a formal setting, what will you do when those opportunities are gone? Counseling is not only the stepping stone to the wedding but a lifeline for marriage.
3. Put Tips into Practice
A fun part of counseling was having weekly challenges. We created and compared lists of our expectations of marriage, took the love languages quiz, and prioritized each other's happiness above our own. Those are just a few examples of the "homework" we received. The phrase "prioritize each other's happiness" has stuck with me, and I find myself having to return to that over and over again in marriage. It is so true—we have to continually die to self in order to love our spouse. I am selfish, and there are countless times when I want to do what I want to do. It takes that extra effort to love my husband and for him to love me, but in the end, it is worth it. Love is a continual choice, and we cannot neglect the small actions that make our other half feel noticed, chosen, forgiven, and special. Put the tips you learn in counseling into practice long after your sessions are done.
4. Follow Up with One Another
While counseling is fun, it is also serious. It isn't easy talking about your pasts, your struggles with sin, and your hopes for the future. Premarital counseling is the time to talk through painful memories, sexual histories, and experiences that have tainted your view of marriage. It engages you spiritually, emotionally, and mentally. It's essential to follow up with your partner after particularly heavy sessions and check-in.
It is impossible to talk about marriage without talking about the beauty of the gospel and the love that Christ has for us. The two are intricately interwoven, with marriage being a glorious representation of our relationship with God and His everlasting dedication to us. Through counseling and discussing the covenant of marriage, my husband relearned the depth of God's love for him and the forgiveness and grace he doesn't deserve but is freely given. That session left us both in tears, and we talked in the car for over an hour afterward. Follow-up and communication are essential aspects of any relationship, but especially one that will turn into a life lived alongside one another.
Many couples find themselves months or even years into marriage when they discover they have different viewpoints on things such as politics, theology, who does the cleaning, how to raise their children, or even if they want kids in the picture at all. It is crucial to talk about these things before committing the rest of your life to someone; counseling facilitates those conversations by having an outside, unbiased person to mediate.
Photo credit: ©GettyImages/Serhii Sobolevskyi
Leah Arthur is the Family Editor of Crosswalk.com. She graduated from James Madison University with a B.A. in English and minors in Creative Writing and Writing, Rhetoric, and Technical Communication.
LISTEN: Overcoming Fear in Marriage
The views and opinions expressed in this podcast are those of the speakers and do not necessarily reflect the views or positions of Salem Web Network and Salem Media Group.
WATCH: Signs You Married for the Wrong Reasons