Surprise Others with Love - iBelieve Truth: A Devotional for Women - June 10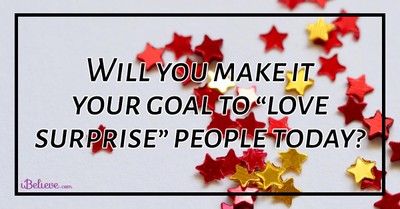 Crosswalk.com

Surprise Others with Love
By Tiffany Thibault
"By this all men will know that you are my disciples, if you love one another." – John 13:35
It was one of those mornings. I did my best to rush through getting ready, to run out the door to try to get to my college class on time. I threw my bookbag on the passenger seat, then started my car. The gas indicator was in the red "E" zone! My brother had borrowed my car for work the night before, and had not replaced the gas he had used. I knew that I didn't have time to stop at the gas station without being late. I could only hope I could get to class with the gas that was left in the tank.
I tensely drove down the interstate, praying I could make it. I almost made it. I put on my indicator to take my exit, when the car sputtered and began to slow. I pulled over to the side of the road and turned the car off. I was one mile from the college. I grabbed my purse and began to walk along the side of the interstate, planning to walk to the nearest gas station and get a can of gas.
As I walked, fuming at the situation, I heard a car slowly pull up behind me. I heard a voice call out, "Can I give you a ride?" I turned to see a young woman about my age, poking her head out the window. She said she had seen me walking as she drove down the opposite side of the interstate. She had taken the next exit and came back to help me. She said, "We girls need to help each other!" I jumped in her car, then she drove me to the gas station and waited as I paid for a can of gas, then drove me back to my car.
I thanked the lady for her help and worried that she would be late to work. She waved her hand and said not to worry about it, that she was glad she was at the right place and time to help me.
I never saw that lady again, I never let my car get below ¼ tank of gas again, and I made my brother replace any gas he used that same day.
More than that though, I am still blessed that a total stranger went out of her way to help me by looking after my interests above her own. She wanted to make sure I wasn't picked up or harassed by someone meaning me harm. She knew I was capable of walking to the gas station by myself. She knew she was on her way to work and would probably be late herself. In spite of all of that, she chose to help me.
In preschool, a few common phrases we teach kids are to "be kind" and "to share." We want to teach kids empathy, the ability to think about other people's needs. Adults are not exempt from being kind. Jesus taught his disciples this when he told them to, "Do to others as you would have them do to you." (Luke 6:31) He saw their humanness, their self-centeredness coming out. Jesus also said: "By this all men will know that you are my disciples, if you love one another."
It has become so normal in our culture to determine that our needs are the most important ones, without thinking about anyone else. Jesus says that our love will show the world who we serve, so are we truly living this out?
I love to see the absolute surprise on people's faces when I put their needs before my own. Niceness shouldn't ever be a surprise to people. Let's make it the norm. Will you make it your goal to "love surprise" people today?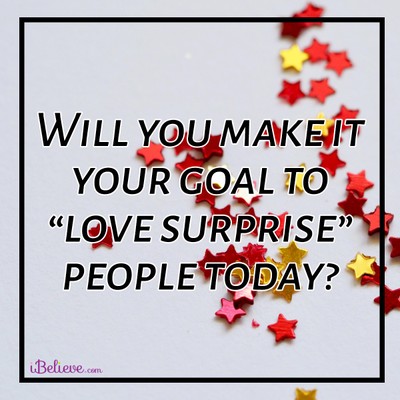 Here are a few quick ways to "love surprise people":
Allow someone to go in front of you at the store because they have less than you
Take someone's shopping cart back for them
Smile at a stranger who looks down and give them an encouraging word
Give the mail delivery person a cold bottle of water on a hot day
Buy a homeless person a meal
Send a little note or email of encouragement to someone, thanking them for who they are
At the end of the day, can you look back and see where you showed the world whose disciple you are, by serving others in love? Let's impact the world together, you and I, as we "love surprise" those people whom God has put in our path.
---
Tiffany Thibault enjoys living life with her husband, two daughters and one very large dog. She not only homeschools her girls, but she also loves to write about Jesus and speak about Him to groups of women. She loves long walks, coffee and anything chocolate.
For More Great Resources for Women, Visit iBelieve's Faith Channel.

Listen to Our FREE New Parenting Podcast! Christian Parent/Crazy World with Catherine Segars is now available on LifeAudio.com. You can listen to the first episode below: